Regular price
Sale price
$4.50
Unit price
per
Sale
Sold out
The Our Lady of Mount Carmel Auspice Maria vinyl sticker is perfect for almost any surface. Try the sticker on your laptop, water bottle, or phone case. Stickers can go just about anywhere you can think of! Additionally, stickers are dishwasher safe and can stand up to the elements as well. This sticker is 3'' around. The Auspice Maria - an intertwined A and M - is a classic Marian symbol. The phrase comes from Latin and means "under the protection" of Mary. Other definitions translate
auspice
as "under the support or patronage" of Mary. For instance, this symbol can be found on countless works of art and reminds us that Our Lady is always watching over us. With this classic symbol as inspiration, I took many titles and apparitions of Our Lady to prayer. From that prayer and reflection came the entire Auspice Maria sticker series. This sticker in particular celebrates Mary's title as Our Lady of Mount Carmel. Surrounding the Auspice Maria symbol are 12 golden, shimmering stars. Inside the stars, a crown sits atop the auspice symbol, similar to the crown worn by Mary as she appeared to
Saint Simon Stock
. Both the A and the M are shades of brown and tan, reminding us of the Carmelite habit. Hanging behind and draped over the A and M are the brown scapular - another gift of Our Lady to Saint Simon. A closer look at the design will reveal even more delicate details of the scapular design.
Disclaimer / Attribution
All artwork, designs, and styles on this website are the original work of Amanda/
worthy of Agape
. Public, commercial, or any other use of these designs that goes beyond personal use is not allowed without expressed, written consent of worthy of Agape.
Share
View full details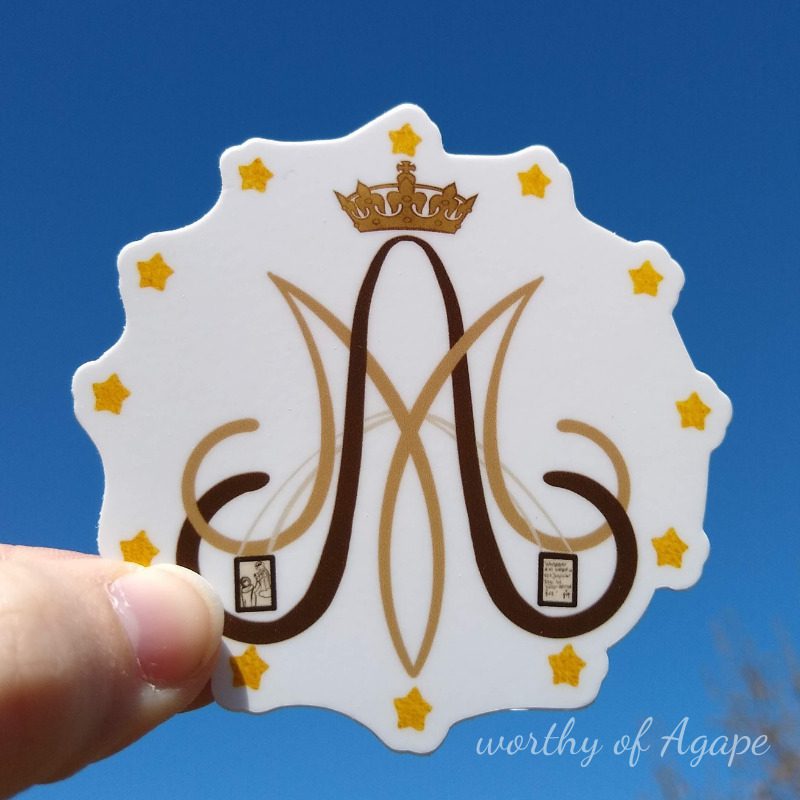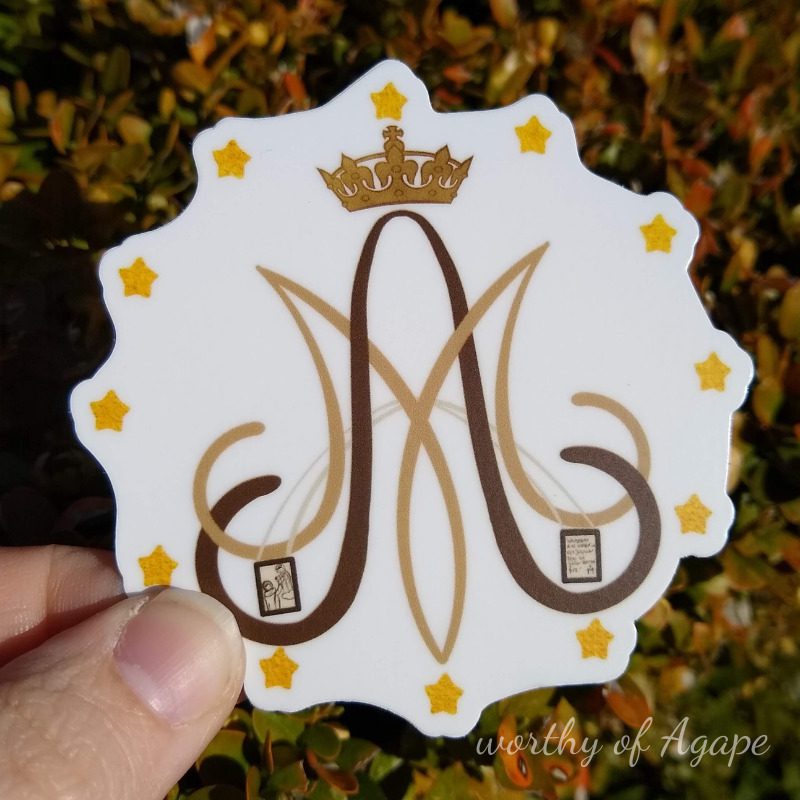 Lovely sticker. Put it on my computer.
I love this symbol! Just beautiful. Well made sticker.